Trading MACD with Inside Bar
By Galen Woods ‐ 3 min read
---
Trading MACD with inside bars is a simple trend trade that inside bars as a low-risk entry point. Learn how to pick the best inside bars.
---
MACD is a very popular indicator among traders. It is a versatile indicator which tells the market trend, and highlights momentum. It is not surprising that many traders have designed trading strategies using the MACD indicator.
The MACD trading strategy we are looking at today combines the MACD indicator and the inside bar pattern by Sunil Mangwani.
It adopts the simple approach of using MACD as a trend indicator and the inside bar as a low-risk trade trigger.
Trading Rules - MACD with Inside Bar
Long Trading Setup
MACD is above zero line
Buy one tick above inside bar
Short Trading Setup
MACD is below zero line
Sell one tick below inside bar
MACD with Inside Bar Trade Examples
Winning Trade - Bullish Inside Bar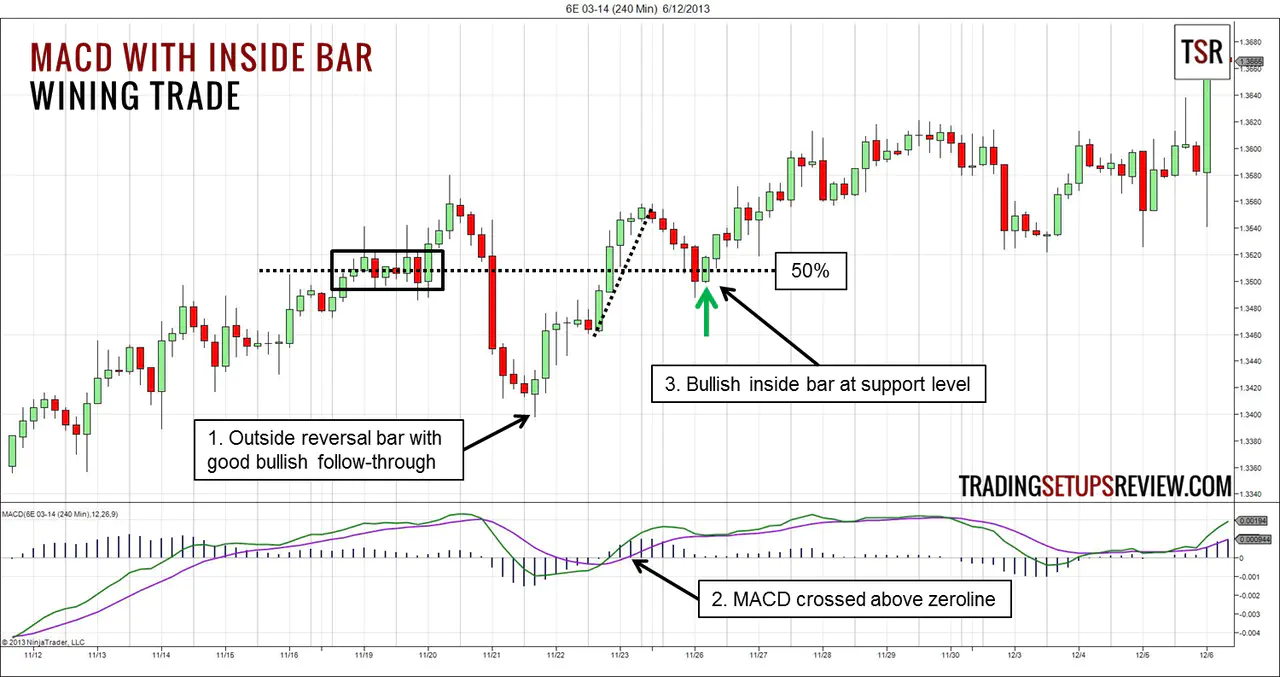 This is a 4-hour chart of 6E futures contract. It shows an inside bar trade with an excellent reward-to-risk ratio.
Despite the seven consecutive bearish bars, the outside bar that reversed the momentum had strong bullish follow-through.
The strong upthrust led to the MACD crossing above the zero line.
Prices moved down and stalled at a support level. (Previous congestion area and 50% retracement level of the earlier bullish swing.) A strong inside bar formed and we entered a tick above it.
Losing Trade - Bullish Inside Bar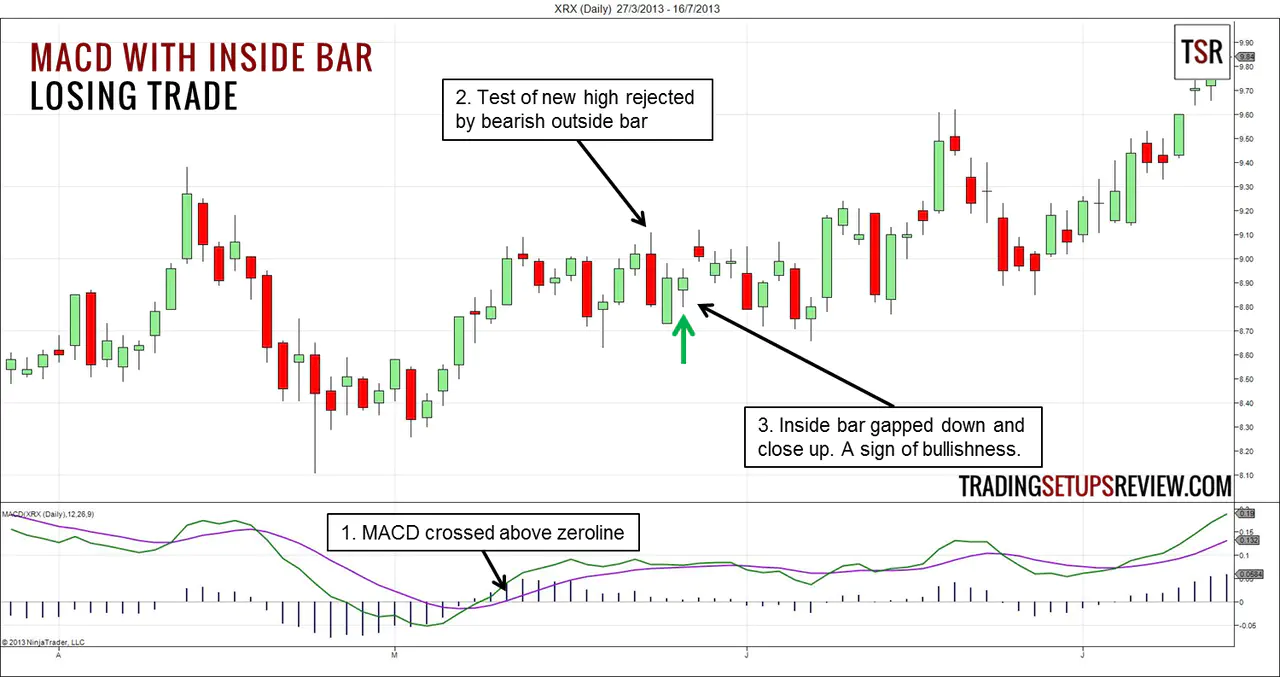 This is a daily chart of Xerox Corporation. It shows the ineffectiveness of this trading strategy in a sideways market.
MACD crossed above zeroline, suggesting an up trend.
However, prices failed to move past the previous swing high as shown by the bearish outside bar. However, after this bearish outside bar, a strong bullish bar appeared. These contradictory signs are likely to create uncertainty among traders. When traders are unsure, break-outs tend to fail.
This inside bar gapped down before closing up. In isolation, it is a bullish sign. However, in the context of a sideways market, this inside bar trade failed within a few days of our entry.
Review - MACD with Inside Bar
This is a simple trading strategy that uses MACD as a trend indicator. Remember that MACD merely suggests that the market is trending. Look at price action for confirmation. Always look for signs of strength in the MACD's favor before committing to a trade.
Inside bars are standard low-risk entries. However, do not trade inside bars simply because they represent low-risk entries. Taking low but unnecessary risks over the long run is not profitable. Do not be fodder for Hikkake traders.
When we use inside bars as trade signal bars, we assume that the inside bar is reversing the bar before it. Hence, look out for inside bars that close in the trend's direction to confirm our assumption. (Find out which inside bars work better.)
As with all continuation trading strategies, the early part of the trend gives the best trades. The first trading setup after MACD crosses the zero line has the highest chance of success.
If you are a MACD fan, you must take a look at these trading strategies.