3 Trading Book Bundles To Lower Your Shipping Costs
By Galen Woods ‐ 6 min read
---
Are trading books in your country expensive? Can't find the trading book you want in your local bookstore? Consider ordering a bundle of books to lower your shipping costs.
---
Are trading books in your country expensive? Can't find the trading book you want in your local bookstore?
Global shipping can be costly, so it might not make sense to order one book at a time. If you are thinking of ordering a bundle of books to lower your shipping costs, here are three ideas.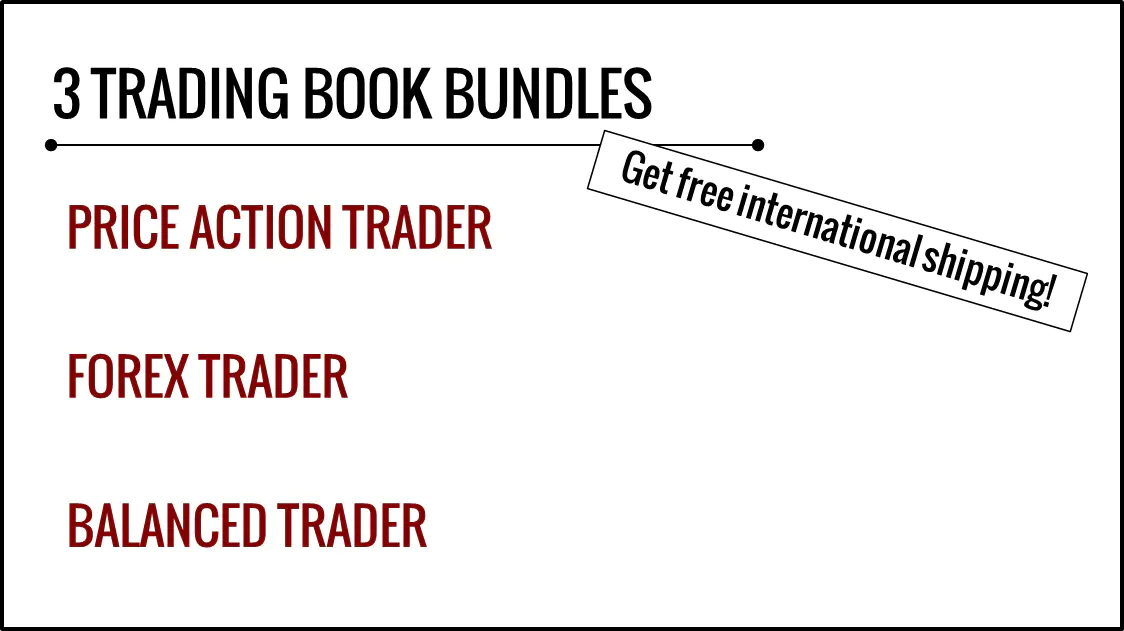 1. The Price Action Trader Book Bundle
Reading Price Charts Bar by Bar: The Technical Analysis of Price Action for the Serious Trader
This is Al Brook's first book on price action trading, which is one of the very few authoritative books on reading price action bar by bar. It covers price action in trends, ranges, and for reversals, providing a cohesive framework for understanding market phases for price action trading.
Due to popular demand, he has gone on to produce a series of three books to elaborate on the concepts mentioned in his first book. However, the first book remains an excellent work that encompasses all of his major price action trading ideas. It is a cost-effective alternative to buying the newer three-book series.
Al Brooks offers valuable and unique ideas for price action trading and analysis. However, it is not a complete guide for traders. Adam Grimes' book below fills in for that.
The Art & Science of Technical Analysis: Market Structure, Price Action & Trading Strategies
This book by Adam Grimes is extremely well-organized. It explains market structure and price action within a holistic framework, before diving into different types of practical trading strategies. This book, which received excellent reviews from its readers, offers an organization of ideas that is less clear in Al Brooks' book.
Other than explaining the market structure, Adam Grimes also included sections on risk management, trade management, record-keeping, and other extremely relevant topics geared toward retail traders.
A Complete Guide to Volume Price Analysis
Anna Coulling's book on volume analysis offers great insights into the most important volume tools and how price and volume relate to each other on a fundamental level.
Volume is one of the best complement to price action. For a winning recipe, observe price action and integrate volume analysis. Thus, this guide completes our value bundle for price action traders.
If you have a larger budget for investing in your trading knowledge, take a look at our Top 10 Price Action Trading Books.
2. The Forex Trader Book Bundle
Day Trading and Swing Trading the Currency Market: Technical and Fundamental Strategies to Profit from Market Moves
The currency market has its peculiarities related to time zones, news events, and volatility. While you might find these information thrown all over the internet for free, this book offers you these information from a credible figure in trading education. Hence, it is a great book to kick-start your forex trading journey.
Check out this MOMO strategy from Kathy Lien.
The strategies within this book are practical and offer many options for different time-frames and trading styles. In addition, the strategies are specific and include clear examples.
Beat the Forex Dealer: An insider's look into trading today's foreign exchange market
Augustin Silvani's book is not about the basics of forex trading. It is about perspectives.
It shows you the dealer's perspective. More importantly, it shows you the ugly side of the forex market, especially when it comes to the disadvantages of being a retail forex trader.
Even if you do not end up applying the recommended strategies, reading this book gives you a stark idea of the how the game is rigged. Your perspective deepens, and you can improve your own trading strategies with these new insights.
A Three Dimensional Approach to Forex Trading
This book by Anna Coulling (again) offers a clear framework for understanding the price movement in forex markets. The three dimensions refer to relational, fundamental, and technical analysis. Relational is another word for inter-market analysis.
As with her other books, her writing style is clear and honest. For those confused by fragmented trading strategies, Anna Coulling's book is extremely beneficial. It shows you the bigger picture and how to structure your trades within that macro context.
Forex Price Action Scalping: an in-depth look into the field of professional scalping
Due to the high volatility and liquidity in currency markets, scalping for small profits is a very popular trading style among forex traders. However, the demand for these extremely short-term trading strategies is met largely by contributors sharing in forex trading forums. Bob Volman's book is the only one that focuses on scalping in the forex market.
He uses pure price action within very fast tick time-frames to find clear and effective scalping setups. Bob Volman's unique style completes our trading book bundle for forex traders.
3. The Balanced Trader Book Bundle
Suppose you just want to get your feet wet and start learning about trading. However, you are not sure which market, trading time-frame, and trading style suit you.
In that case, this is the bundle for you. It has three well-reviewed trading books that traders had raved about and are still raving about. And they are equally applicable regardless of your choice of trading market, style, and time-frame.
Technical Analysis of the Financial Markets: A Comprehensive Guide to Trading Methods and Applications
This guide is a must-have for a thorough education on technical analysis that includes its theoretical underpinnings and basic tools like chart types, chart patterns, and trading indicators. On top of that, it dedicates entire sections to Elliot Wave, volume analysis, time cycles, point and figure charting, Japanese candlesticks, system trading, inter-market analysis, market breadth, and market profile.
Its scope is not limited to analysis techniques but also extends to money management and trading tactics.
Is there anything John Murphy left out?
Trading for a Living: Psychology, Trading Tactics, Money Management
This classic book by Alexander Elder managed a fine balance of three key trading topics and offers a great read for any trader.
Being a psychiatrist and a trader, Alexander Elder's discussion of trading psychology is insightful and practical. Couple that with sound trading tactics and a simple-to-follow money management rule and you get a rounded trading perspective.
Check out the Impulse System by Elder.
You will not find the best trading strategy in this book, so do not look for it. The value of this book lies in the way it combines different important aspects of trading in a sensible way that is extremely useful for new traders.
Trading in the Zone: Master the Market with Confidence, Discipline and a Winning Attitude
This book is not about trading strategies. It is about something more important. It is about changing our beliefs to attain trading success.
Human minds are not naturally comfortable with probabilistic thinking, which is necessary for trading success. Mark Douglas' book highlights this fact and uncovers the mindset of a winning trader. For most traders, overcoming psychological barriers is the key to consistent trading profits.
Some traders might find that the book belabors the same few concepts. However, these concepts are so critical for trading successfully that I think the overemphasis is justified.
This might be the one book you need to read for achieving consistency.
Get Free Delivery
Get Amazon Prime for free two-day shipping with no minimum purchase and get your trading books without delay.
Happy reading!