Seven Free Forex Trading Tools You Should Be Using
By Galen Woods ‐ 6 min read
---
Forex trading tools that are awesome and free. These are seven tools you should use for forex trading.
---
Forex trading takes place in a competitive arena. Every trader is looking for awesome forex trading tools to help them. Even better if they are free.
The good news is that there are dozens of free forex trading tools. The bad news is that most free forex trading tools are unreliable and confusing.
In this bundle, you will find seven free forex trading tools that are slick, easy-to-use, and practical.
1. Forex Volatility Calculator
Traders thrive on volatility. A stagnant forex pair offers little room for profit. Hence, forex traders need to know which currency pairs are volatile and their active trading hours.
There are dozens of currency pairs out there. Computing their volatility is not an easy task for the manual trader.
This is why you need the Forex Volatility Calculator at Investing.com. This essential forex trading tool calculates the volatility of 30 currency pairs using historical data (up to 54 weeks).
It shows the daily change in pips and percentage of each forex pair in a nice table. What makes this forex trading tool so useful are the complementary graphs shown below.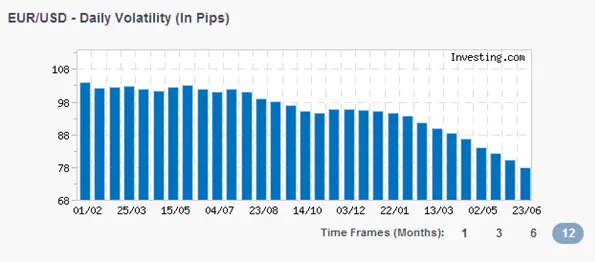 2. Currency Correlation
Currency pairs are permutations of different currencies. Hence, we expect them to correlate in their price changes. Understanding the correlations among currency pairs is critical if you intend to trade more than one pair.
For hedging, look for negative correlation.
For diversifying, look for near zero correlation.
For increasing exposure, look for positive correlation.
If you don't pay attention to currency correlation, you might just end up hedging your position without realising it. (Kathy Lien has an informative article on currency correlation at Investopedia.)
While you can calculate the correlation between currency pairs yourself using Excel, the forex broker Oanda offers a slick Currency Correlation tool that measures historical correlation up to 1 year.
This forex trading tool includes an impressive array of major currency pairs, exotics, and even metals. The Bubble and Heatmap offer friendly visuals. For the numerical values, choose to display in Table format.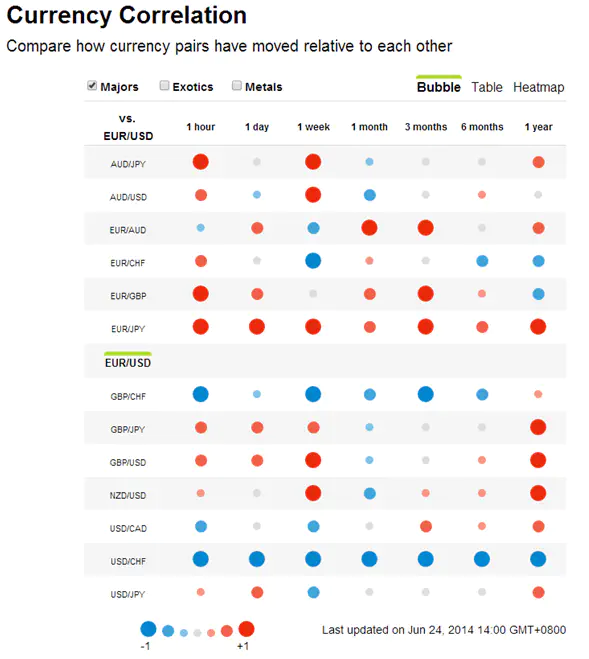 This Currency Correlation tool is part of the suite of tools at Oanda Forex Labs where you can test drive and give feedback on Oanda's latest forex trading tools. You can use most of the forex trading tools for free even if you are not Oanda's customer.
3. Forex Market Hours (Time Zone Converter)
The major forex trading centers are New York, London, Tokyo, and Sydney. Many traders do not stay in any of these cities and need to keep tabs on different time zones.
And even if you do, you will still need to keep track of the time in other major currency markets. This is because the opening range of each market sets the tone for each session, and the overlapping hours tend to have more trading setups.
There are forex trading tools that converts time zones. However, for managing time zones, I find that a graphical interface is the best. You only need a glance to know which markets are open. This is why I'm placing Oanda in the list again.
With Oanda's Forex Market Hours tool, simply choose a time zone. The rest is self-explanatory.
(You can also choose to show an hourly volume graph to see when most traders are active.)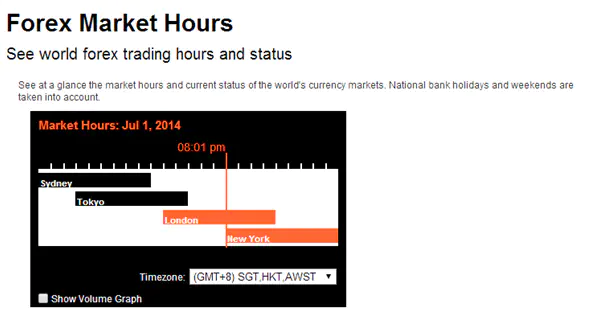 There is also a Chrome Extension for this time zone forex trading tool.
4. Forex Calendar
Some forex traders speculate on news and reports. Others avoid trading when important reports are flowing into the market. In any case, traders must keep an eye on scheduled reports that might impact the forex market.
Forexfactory has the best forex calendar. Before you start poking around, click on the underlined time to set your local timezone. Then, the calendar will comply with your local time.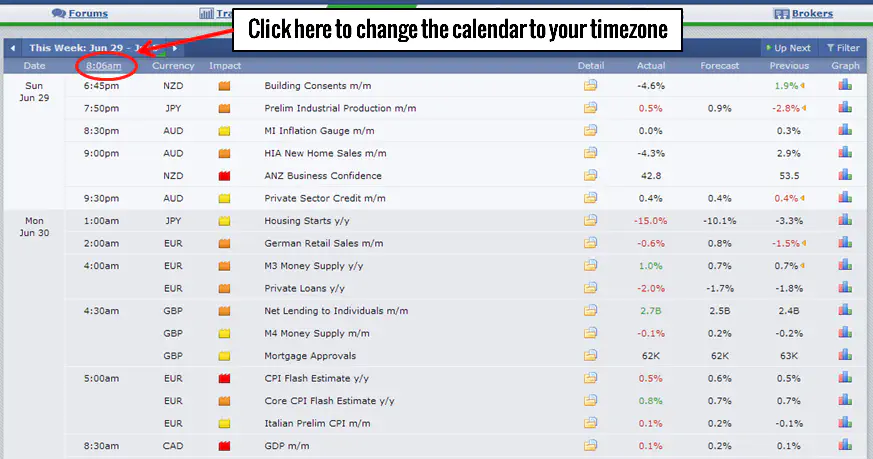 This forex trading tool is really more than just a calendar. For each report item on the calendar, it shows the:
Relevant currency;
Expected level of impact;
Actual, forecast, and previous report figures; and
Detail tab explaining why forex traders care about the report.
This calendar is a must-have forex trading tool.
5. Position Size Calculator
To trade safely, you must know how much to risk per trade. Risking a fixed percentage (for e.g. 2%) of our trading account is a common strategy.
In forex trading, this seemingly simple fixed percentage position sizing decision becomes complicated. This is because you need to consider your forex trading account's base currency and the current price of the currency pair you intend to trade.
Babypips Position Size Calculator offers a simple forex trading tool to handle the calculation for you. You just need to key in the following information:
Account Currency
Account Balance
Risk Percentage (depending on your risk threshold - 2% is a common benchmark)
Stop Loss in Pips (depending on your trading setup)
Currency Pair (that you intend to trade)
If your Account Currency is different from the quote currency of the Currency Pair you intend to trade, you will need to give one more input as prompted by the calculator. (The quote currency is the one after the slash. For e.g. USD is the quote currency of EUR/USD.)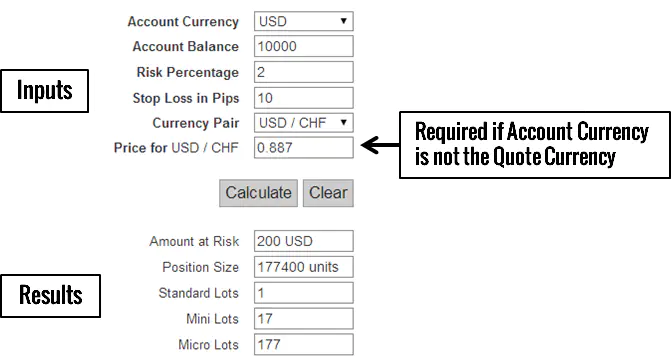 This forex trading tool will compute the corresponding position size and display it in terms of micro, mini, and standard lots.
6. Pivot Point Calculator
Pivot Points are calculated values that serve as support and resistance areas. Forex traders keep these numbers in mind to assess the tone of each trading session.
The Forex Pivot Point Calculator at FXStreet calculates the Pivot Points for up to four currency pairs.
Simply key in the High, Low, and Close values of the previous session and you will get the Pivot Point values. As the forex market trades 24-hours, most traders use 00:00 GMT as the start and end of each forex trading day.
There is also some confusion over the Pivot Point formula due to its variants. This is where the FXStreet forex trading tool comes in handy. You can choose among four variants (Classic, Woodies, Camarilla, Fibonacci). The chosen formula is also detailed at the bottom for your review.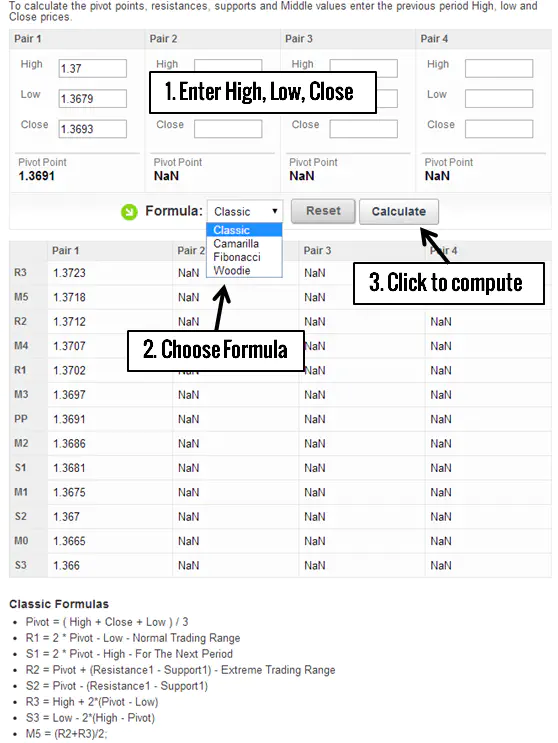 7. MetaTrader4 (MT4)
MetaTrader4 is one of the most popular trading platform among forex traders. There are compelling reasons for it.
You can trade with most forex brokers using MT4.
There is a wide community of forex traders that can help you. (Find them in forums.)
MT4 offer automated trading (Expert Advisors).
You write your own technical indicators.
You can trade on mobile.
With a demo account, you can simulate trades with it.
It's free.
For a free forex trading tool, its features are impressive.
Tip: If you use MT4, you can integrate the ForexFactory calendar mentioned using this indicator.
Forex Trading Tools
Time to bookmark these free forex trading tools!
If you don't mind paying for quality forex trading tools, you should take a look at our Forex Tester - Forex Tester. It contains effective forex trading tools that you should have if you are serious about forex trading.
With it, you will find it easy to gain screen-time and trading experience without risking your previous trading capital. You will also have access to advanced features that you won't find in free tools.
I like that fact that they are solid trading tools that help you track and improve your trading, and not fanciful forex signals that promise ridiculous returns. If you want to invest in your forex trading career, I definitely recommend these tools over a trading signal service.
What's your favourite forex tool? Share with us.