Price Action Pattern Indicator
By Galen Woods ‐ 3 min read
---
Easily spot and study five popular price patterns
---
This nifty Price Action Pattern Indicator for NinjaTrader™ (both NT7 and NT8) will help you find five effective price patterns featured on Trading Setups Review.
You can get it from our Ko-fi shop.
Features
> Five price patterns to choose from
The indicator includes five popular price action patterns we reviewed.
Click on the links below to learn more about each pattern
> Charts price action patterns
Marks out price action patterns with color arrows. Great for learning historical patterns and confirming price patterns in real-time.
> Scans for price action patterns
With  NinjaTrader™'s Market Analyzer, you scan for potential price action trading setups across a universe of instruments.
Extremely useful for swing traders looking for trade opportunities.
> Filters trading patterns with the trend
You can choose to use an exponential moving average to filter the signals according to the market trend.
How to Use the Indicator
First-time  NinjaTrader™ users should read this quick guide before returning to this page.
Importing Price Action Pattern Indicator
1. Open  NinjaTrader™.
2. Click on "File" > "Utilities" > "Import NinjaScript…".
3. Select the Price Action Pattern Indicator zip file to import.
Setting up the Indicator
Parameters
1. EMA Period - Look-back period of exponential moving average used as a trend filter.
2. Trend Filter* - Choose if you want the trend filter to apply. If you choose "True", the indicator will mark bullish patterns above the EMA and bearish patterns below the EMA. If not, it will mark all price patterns.
*For NT8, setting the EMA period to the value of 0 will turn off the trend filter.
3. Price Pattern - Price pattern to mark out on the chart. It marks bullish patterns with green arrows and bearish patterns with red arrows.
(Except the ID/NR4 pattern when chosen without a trend filter. In that case, ID/NR4 patterns have no directional bias and are marked by a yellow background color on the chart.)
Plots
1. MA - It plots the EMA if the trend filter is on.
2. Signal - This plot does not appear on the chart. We will use it for scanning.
Scanning for Price Patterns
1. Click on "File" > "New" > "Market Analyzer…".
2. Right-click in the Market Analyzer window > "Columns…".
3. Select "Indicator".
4. Configure the indicator for scanning as shown below. (For the plot, select "Signal" for NT7 and "PatternFound" for NT8.)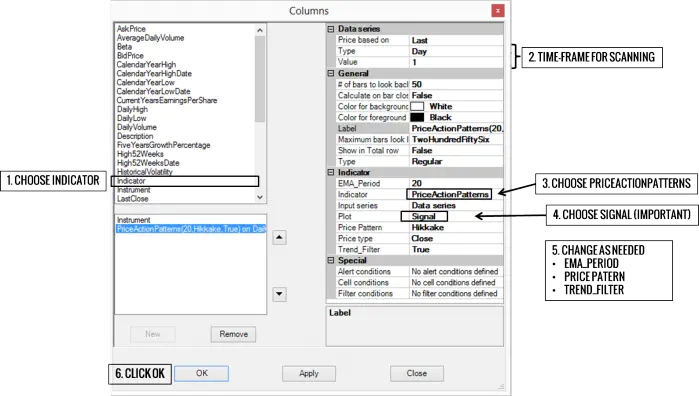 5. Bullish patterns will return the value of 1, and bearish patterns will return -1. (Exception: If no trend filter is set to false, all ID/NR4 patterns will return a value of 1.)
6. To set up audio alerts for the price patterns, you can follow the instructions on this page.
How to Really Use the Indicator
Do not trade blindly according to the price patterns marked out by this indicator. Any price pattern in isolation is unlikely to give a trading edge.
The purpose of this indicator is to highlight price patterns for your further analysis.
Have fun with the price action patterns. Please contact us if you have any feedback.
You can get it from our Ko-fi shop.