How To Trade With Price Action
---
A guided tour featuring a selection of our best content on price action. Over 90 price action trading guides, articles, tips, and trading strategies. Everything you need to learn how to trade with price action.
---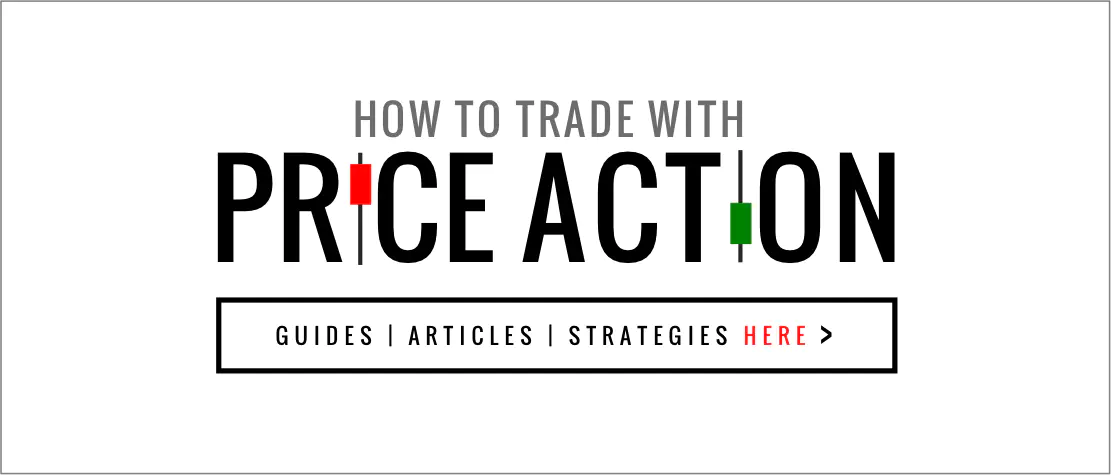 The term "price action trading" sounds like a secret formula to trading success. But in reality, it is an open and logical form of technical market analysis. It does not promise success, but it does offer unique insights into the market's behavior.
How to trade with price action?
This is not an easy question. Price action involves so many aspects that it's impossible to give a concise answer. Hence, what you'll find here is a resource guide pointing to (almost) everything we have on price action trading.
Hopefully, by exploring these links, you can arrive at an answer that makes sense (and money) for you.
Before we dive in, let's go through a few aspects of price action trading that makes it so appealing to both new and seasoned traders.
Increases focus - Less is more. The law of diminishing returns applies here. Each new indicator you add to your chart dilutes your focus. Removing most indicators will enhance your focus.
Enhances versatility - You can apply price action concepts in most markets and timeframes, empowering you with flexibility in your trading.
Trains intuition - Ultimately, all technical trading methods are based on market data, of which price data is the main component. Even if you do not trade strictly with price action, getting comfortable analyzing price movement will help you hone your intuition as a trader.
The following resources below will help you learn what price action is and how to get the most out of analyzing it.
Guide Overview
Price Action for Beginners
Trading Tools
Ideas and Perspectives
Strategies
Chart Examples
Beyond This List
#1: Start here: Price Action for Beginners
Are you just getting started? For anyone looking for primers on price action trading, these articles will get you on track.
Everything from its definition to the basic price patterns, you'll find all you need to kick-start your learning journey.
What is Price Action?
How to Proceed?
Each link in this section offers an overview and step-by-step progression.
They also help you to make sense of the many resources that follow.
Reading Price Action
This is an often overlooked step. Before you jump in looking for trading setups, learn to identify and describe the market's key price characteristics.
Support and Resistance
Support and resistance is a crucial concept. You will find more on this topic throughout this list, but these three links will start you off.
#2: Price Action Trading Tools
Grasped the basics?
It's time to move on to learning specific tools - trend bars, trend lines, channels, swing pivots, congestion, and more.
Interpreting Price Action
Some traders find price action analysis to be too subjective. Here are the tools you can apply to build a systematic analytical framework.
Trend Lines and Channels
Trend lines and the price channels you can project from them are among the most powerful tools for experienced traders.
Learn how to use them effectively from these posts.
Tracking Market Bias
When it comes to market timing, figuring out the market bias is half the battle.
#3: Price Action Ideas and Perspectives
If you are comfortable with the fundamental technical aspects, perhaps what you need are some perspectives and ideas to propel your performance.
Trading Tips
Trading Techniques
Taking a Step Back
Your trading strategy must be consistent with other parts of your trading plan. They include factors like your trade execution, record-keeping, and timeframe selection.
Exotics
Poke a little beyond the conventional candlestick (bar) charts and see what you find.
#4: Trading Setups
Before you feast on the buffet of trading setups and patterns below, make sure you understand that the setup is only one facet of a holistic strategy.
In this section, you'll find setups in the following categories:
Bar Patterns
Candlestick Patterns
Chart Patterns
Price Gaps
Price With Volume
Price With Trend Lines
Price With Indicators
Bar Patterns
Candlestick Patterns
Chart Patterns
Price Gaps
Price with Volume
Price with Trend Lines
Price with Indicators
Demonizing indicators is not our objective. It is possible to focus on price action while taking advantage of indicators.
Here are some strategies that play well with price analysis despite using indicators.
#5: Price Action Chart Examples
Once you have a firm foundation, you'll progress much faster if you review chart examples rather than reading rules.
#6: Going Beyond
For those who need more help beyond this massive list, check these out:
Prefer reading offline? You can also enjoy selected content offline with our TSR Trading Guides [PDF].
The article was first published on 23 April 2014 and updated on 25 November 2020.